Être means "to be." So, for Ilana Raia, Être Girls was the perfect name for a resource for middle and high school. Être Girls uses mentorship to teach girls across the country to be informed, smart, brave, charitable, happy, strong, brave, strong, connected, wise, innovative and well-read. It's ultimately helping young girls answer the question, who exactly do you want to be?
We got together with Ilana to find out more about Être Girls and how middle and high school girls in Stamford can get involved!
1. What is Être Girls?
Être is a new resource site for today's motivated middle and high school age girls. With curated links, role model quotes, interviews with innovative teens and mentorship events with rockstar female execs, each page of the site is keyed off the meaning of our French name – "To Be." For example, the #BeInformed page provides age-appropriate news sites, #BeSmart offers STEM and other academic links, #BeWi$e promotes financial confidence, #BeCharitable introduces early philanthropy, #BeStrong highlights female athletes, #BeConnected inspires female mentorship and #BeInnovativeencourages young entrepreneurship. There are more, but you get the idea.
Launched 2 years ago as a website, Être is now growing into other exciting areas: Club Être is an after-school "club in a box" that started at Rye Country Day – nine additional chapters have since formed in the US and in Canada. We began in-person mentorship events called Lunch & Learns where we bring 10 girls at a time to meet female executives in fascinating fields, and Spotify hosted our inaugural event! By the way, both of these ideas came directly from our Board of Advisors, which is made up entirely of middle and high school-age girls. Whatever new idea they can dream up, we try to make happen.
At its core, Être is about listening to today's girls, recognizing what resonates with them and then curating the right resources to springboard their interests. 
2. Why did you decide to start the organization?
When my daughter was in middle school, I realized that she was not seeing the accomplished women around her as real role models. I was working as a lawyer at Skadden at the time and many of my friends were writers, surgeons, news anchors and CEOs, yet she only referred to them as "your friend from book club" or "so-and-so's mom." I emailed about 20 women and asked if they would take part in a Girls' Summit at my house, to let my daughter and here friends hear from inspiring women and ask their questions. While the day never took place due to our jammed calendars, the girls had been curious and the women enthusiastic. When I retired from law firm life I circled back to the idea, but – upon advice from one of those brilliant women – built it as a website instead of a one-day event. My daughter sparked the idea…and then an army of fantastic women fueled it.
3. Why is mentorship so important
Mentorship is crucial to growth of any kind and, to my mind, female mentorship is the gold standard. It's one thing to read about a subject, a sport or what a career might be like  – it's quite another to meet a woman who has lived it, excelled at it and blended it with the rest of her life. My very first mentor at Skadden was a woman named Nancy Lieberman and not only was she the youngest partner ever at the Firm, but at the time she was among only a handful of women in the Mergers & Acquisitions group. She was incredibly generous with her time and wisdom, and spending my first two years learning by her side accelerated my career and changed my life forever.
And… speaking straight to the girls for a moment: mentorship is valuable at every age! Middle school is not too young to find a trusted teacher, coach or aunt with a cool job and – with close parental oversight – begin to learn more about subjects you love. As we say on
#BeConnected
, "Mentors are nothing more than people who do what you like to do…they've just been doing it longer and they're super good at it." We've got top tier mentorship groups like
Lean In, Ellevate, The Geena Davis Institute, Career Girls
and
Mogul
on that page, and we'll guide you through how to identify the right mentor and ask for their time. Remember – every mentor was once in middle school too! So choose wisely, and then when
you
become the expert take the time to mentor the next girl.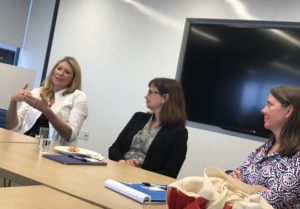 4. How can Stamford girls get involved?
Girls, there are so many ways to get involved with Être!  If you're interested in joining the Board, we'd love to hear from you. Just
email us
& tell us a little about your interests & activities. We don't meet in person (our Board members are in many different states), but every month you'll get an email with updates and five questions to answer. Board feedback to those questions shapes what goes on the site, who we try to interview and what companies we visit. Oh, and there's swag.
You can also found a Club Être chapter at your school, organize a local Être event (check out this
Girls In Politics event
we did last fall), team up to further a community service activity or suggest new content for the site. Know a great book we missed on
#BeWellRead
or an inventive teen we should meet? Let us know – we love making new friends! Finally, follow us on
Facebook
,
Insta
&
Twitter
(all @etregirls) & tell your friends! We're 100% non-commercial (no ads, no sponsors), so word of mouth is our absolute best friend.
5. What is your advice for moms with regard to raising strong, confident daughters?
First of all, if a mom is reading this on Stamford Moms, then likely she is already raising a strong, confident girl! My advice is simply to follow the interests already authentic to your daughter, and then find the right resources to promote and further them. There are millions of clubs, clinics and activities out there, but only you know what truly and deeply resonates with your girl. Encourage her to explore lots of options so she can decide what is worth her valuable time and effort, and then tell her to go for it with abandon. Cheer her on until you're hoarse. Être is hollering right next to you.
Also, remind her not to let herself be underestimated. It's easy for adults to shy away from discussing big topics like financial literacy, political awareness, equal pay or even cryptocurrency (stop laughing) with the younger set, but these are all topics that today's girls can comprehend. Être's articles for HuffPost and Thrive Global break down these issues regularly and offer actionable advice for girls…and the smart, cool moms reading over their shoulders. Strength and confidence don't appear overnight. But they definitely grow nurtured by opportunity, resources and role models. If we can help in any way, we'd be thrilled.