The Elf on the Shelf comes with mixed emotions for parents every year. It's our first year with our elf… and so far… ok? Minus the night I forgot about him… but considering my son is 2, he hardly noticed. When it comes to what the elf is up to every night, I'm using a simple rule of thumb. The elf likes what my son likes. That includes, coloring, riding on the train around the Christmas tree, riding on a fire truck, building with legos, eating cheerios and taking a shot at the basketball hoop! Nothing elaborate, nothing that takes longer than five minutes to create. But, we're starting a tradition and giving my son something to be excited about every morning leading up to Christmas! For me, that's reason enough to give it a try (without driving myself crazy).
Need some help making the Elf on the Shelf work for your family? Our parent company, The Local Moms Network has some great tips, below!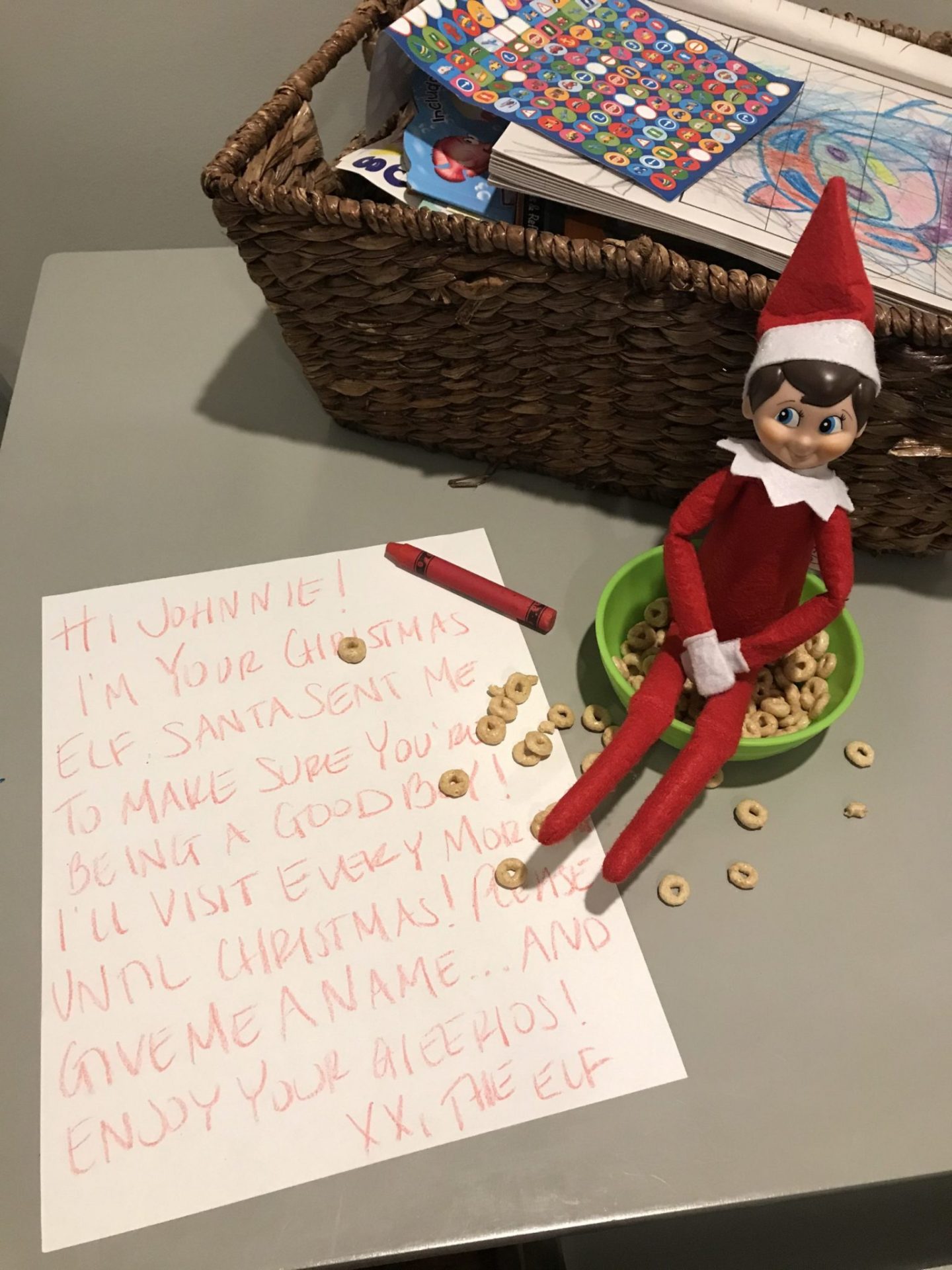 Don't Feel Like You Have to Do It By the Book
That's right—if this is going to tip you over the edge of parental sanity this season, skip it altogether, or do it on your own terms. Maybe your Elf spends the week in the North Pole and your house is his weekend home…or maybe your Elf comes early in December and just wants to snuggle with his holiday buddy all month instead of moving around a ton. Note: the "wing it" approach works best if you have small toddlers who A. can't read the book or B. compare solid notes with friends.
Keep It Super Basic
Yes, there are people who create elaborate scenarios with the Elf. Some people enjoy this. These are probably the same people who complete proper baby books, have professionally taken holiday photos and may or may not knit. Maybe that's you, maybe it's not—none of this plays into how "good" of a mom you are, we promise. If you're don't want to spend more than 30 seconds a night on this, don't. Kids will just love the magic of him moving around, and simply existing.
Get Expert Help
The family-run brand has apps you can download, Elf clothes you can dress your visitor in, and super easy ideas for the Elf, with step by step instructions. Just like with most things in life, putting in a little time, or throwing a little money at your problem, can work wonders. For more, go to: https://www.elfontheshelf.com
Head to Social Media
Instagram and Pinterest have a ton of amazing ideas, from easy to elaborate. If you need inspiration, fast, just use hashtag #elfontheshelf and you'll have your month filled in seconds.
Keep a Shortlist of Excuses Handy
If you end up forgetting about the elf one day (and it will happen…), you can reduce the stress by having a good excuse or two ready to go. For instance, there was a blizzard at the North Pole and the Elf got stuck there while checking in with Santa, but he'll be back tomorrow! Pro tip: Discuss your excuses and the order in which you'll be using them with the other parent, so you're on the same page if questioned.
To read The Local Moms Network's interview with the founders of Elf on the Shelf, click here.