Press Release
In an unprecedented era when the world is rethinking what defines an "office" and reimagining how to reconcile work with personal priorities and the demands and desires of daily life, Wheelhouse CEO Brent Montgomery is proud to unveil "The Village" in Stamford, Connecticut, along with his wife Courtney Montgomery, developer of The Village and CEO of Wheelhouse Properties.
Less than 40 miles from New York City and on the water in Stamford, The Village is a brand new large-scale, indoor-outdoor, premium work-play environment bringing together best-in-class companies from the worlds of content and media, brands and marketing, social and experiential, and finance and investment.
Amassing creators, producers, artists, engineers, musicians, athletes, founders, and titans of finance all under (and above) one roof, The Village aims to be the new epicenter of culture north of New York City. It was specifically designed to serve the needs of entrepreneurs in realms like art, entertainment, food, finance and much more, with the "green" waterfront property created to serve as an incubator, bringing people together for what Brent Montgomery refers to as "the combined power of creation, capitalization and execution."
Wheelhouse, ITV America and Cisco Brewers are set to be anchor tenants when The Village opens officially in spring 2021 (Cisco Brewers, the renowned family- and dog-friendly hot spot and producer of world-class beers, wines and spirits, is launching its first outpost in Connecticut) and negotiations remain under way with a range of tenants eager to call The Village home. The Village will also partner with premier, organic food company Mike's Organic which will help incubate and develop a portfolio of loved local food concepts at the building.
For those looking to forge careers in media, entertainment and the content/production world – outside of New York City – The Village offers turn-key production facilities to scripted and unscripted production companies, representing a "win-win-win" for that demanding industry: unique opportunity; collaboration with creators and producers of film and TV programming; and renewed focus on quality of life.
As so many emerge from pandemic-related lockdowns, reexamining the constraints of large cities and the fresh appeal of suburbs, The Village rolls out as a viable alternative to the Manhattan-based, East Coast media business – and the high costs, close confines and challenging commutes that typically go along with it.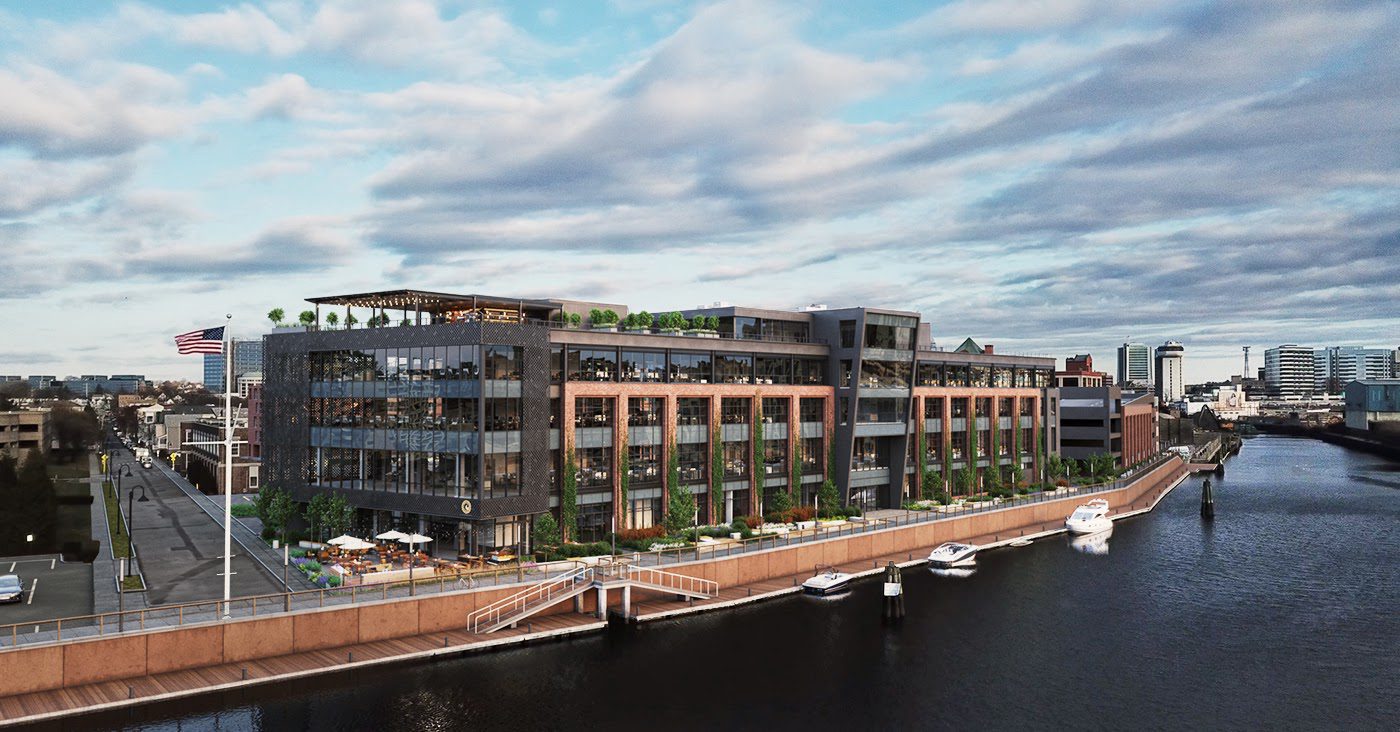 Whether driving, biking or walking to work, tenants and visitors of The Village will experience an eclectic mix of worlds that embody the entrepreneurial spirit, and offer potential for business-building and collaboration.
The Village is financed by media magnate and Fairfield County resident Brent Montgomery, a self-made entrepreneur who, along with his partner, Jimmy Kimmel, launched Wheelhouse in 2018. The company consists of four businesses: content and production division Wheelhouse Entertainment; marketing arm Wheelhouse Labs; investment arm Wheelhouse Partners; and Wheelhouse Properties, founded and run by Courtney Montgomery, and which serves as the developer for The Village.
Said Wheelhouse CEO Montgomery, "We launched Wheelhouse at a time of huge shifts in content and entertainment and we based the company on pairing great talent and creative ideas with infrastructure and investment support. That's a recipe we believe creates opportunity and so we built two work/play spaces in New York and LA that we finally stopped trying to explain, and instead just invited people to come and see for themselves. In two short years, we've hosted dozens of the biggest names in the world simply because we were doing something different by bringing people together who wouldn't have met otherwise. When you introduce someone with a big idea to others who can invest in it and, most importantly, execute, the sky is the limit.
He continued, "The South End of Stamford already had a tailwind that's only getting stronger as folks leave the crowds and high taxes of New York City and New Jersey, and as employers offer a lot more flexibility with remote working – allowing more people to work where they live. Billions have been invested recently on the waterfront property of Stamford's South End and we think that The Village can tie it all together."
With a brand-new campus boasting 133,000 square feet of creative coworking, office and meeting space; state-of-the-art production facilities; unparalleled private event and indoor/outdoor rooftop space; and nearly 1,000 feet of walkable marina, The Village offers a singular proposition for executives, creatives, and entertainment and production professionals.
It also features Connecticut's first LEED V4 commercial building.
In the era of COVID, the LEED standard mandates high-efficiency filtration and ventilation systems, including a dedicated air handling unit that brings in 100% outside air, preventing recirculated return air. Touchless solutions for restrooms and main entry doors, as well as keyless security access, are just some examples of the stringent health and safety measures employed throughout the building.
Anticipating the creation of roughly 600 new jobs in the state across multiple industries, The Village believes it will encourage hundreds, and one day thousands of people to see merit in relocating to – or never leaving – Fairfield County.
Said Stamford Mayor David Martin, "Stamford has always been an innovative, commercially driven city with the feel and benefits of a small town. Workspaces like The Village represent the vision and opportunity that are attracting our future workforce and residents to the community, and COVID only accelerated this movement. I look forward to The Village opening in our city and to welcoming all who recognize that Stamford is the place to be."
Current tenants and partners of The Village include:
Wheelhouse – a one-stop shop for TV, film and digital content, celebrity talent, brands, entrepreneurs and investors

Wheelhouse harnesses business and programming opportunities across industries and platforms, helping companies and creators accelerate and manage their ventures. Divisions include Wheelhouse Entertainment(including Kimmelot, the production company forged with Kimmel; Wheelhouse's in-house Spoke Studios; live entertainment giant Den of Thieves;premium film/TV company Campfire; and digital content studio Portal A);Wheelhouse Labs, the company's in-house brand and marketing agency; investment arm Wheelhouse Partners; and developer Wheelhouse Properties.

ITV America – one of the largest independent producers of unscripted content in the U.S.

Producing hundreds of TV episodes, series and specials annually, ITV America shows include Emmy-winningQueer Eye, global dating phenomenon Love Island, the long-running Hell's Kitchen with Chef Gordon Ramsey, and numerous iconic series like Pawn Stars, Alone, Real Housewives of New Jerseyand Fixer Upper, among many others.

Cisco Brewers – the renowned family (and dog-friendly) hot spot and producer of world-class beers, wines and spirits, is launching its first outpost in Connecticut, along with Triple Eight Distillery and Nantucket Vineyard.

Straight from the beautiful island of Nantucket, Cisco Brewers is all about friends, family, kids, dogs, and great music. It also is home to the best single malt whisky in America: Triple Eight Distillery's Notch 15-year, honored at the 2020 Whisky Magazine awards.

Mike's Organic – CT's premier farm-to-home delivery service and organic market will be one of The Village's partners.

Food entrepreneur Mike Geller, who founded the business in 2009 as one of the first farm-to-home delivery services in America, will also serve as Chief Food Curator at The Village to help incubate and develop a portfolio of loved local food concepts.
Mike's Organic connects consumers with small farms and purveyors to make it easier to find clean, wholesome, good-for-you food. The brand encompasses a delivery service for Fairfield County, CT & Westchester County, NY and a market in Stamford, CT.

Private Social Club – exclusive yet relaxed environments where creators and entrepreneurs mix with celebrities, athletes, musicians and titans of industry

With similar spaces in New York and Los Angeles, the Clubs (also known as The Wheelhouses) "connect the dots" for dreams to come to life, with ideas stimulating opportunity.

Apicii – The bespoke hospitality management and concept development company, based in Greenwich Village in New York City, has been advising Wheelhouse and The Village on its food and beverage, and experiential offerings and solutions since inception and will operate the restaurants and bars at the property.

Client list includes some of the most recognized lifestyle brands in America:Montage, Ritz Carlton, Pendry, Marriott, Hilton, Hyatt, Bloomingdales and Macy's, and some of the largest development companies: AECOM, INVESTCO, CIM, MSD Capital and Apollo, among others.
Apicii has developed and operated numerous hospitality venues across the U.S., such as Casa Apicii, a 200-year-old New York City townhouse; the iconic Bath Club in Miami Beach; and the historic Hotel Figueroa in downtown Los Angeles.
About The Village/Fact Sheet:
First-of-its kind, large-scale, premium work-play environment on the water in Stamford, CT
Financed by media magnate, entrepreneur and Fairfield County resident Brent Montgomery, CEO of Wheelhouse Group (content, marketing and investment company launched in 2018)
Developed by Wheelhouse Properties, run, owned and operated by Courtney Montgomery
Architect of Record is CPG Architects, Stamford, CT, responsible for the building and much of the interior buildouts, as well as outdoor space
General Contractor is A. Pappajohn Company
Amy Aidinis Hirsch Interior Design is responsible for the interior design of the most premium elements of The Village
Focused on environmental and energy efficiency, The Village is slated to be the first LEED v4 commercial building in CT:
Currently the most stringent of all LEED certifications
Includes high-efficiency filtration and ventilation system design, allowing the building to supply a much greater amount of outside air and flush out contaminants that may be present
Touchless solutions for restrooms and main entry doors, as well as keyless security access, round out just some of the health and safety measures
The Village is designed and constructed to operate 30% more efficiently than code-compliant buildings of similar usage

The Village will lean into community, allowing entire floors to work and/or play together as desired, with roll-up fences, sleek garage doors and other industrial-chic design elements
Anchor tenants include:

Wheelhouse Group
ITV America
Cisco Brewers

For more information visitwww.thevillagestamford.com