How many kids do you have?
I have 2 kids, both girls. A 6 years old and a 1 year old.
What is your favorite family activity in Stamford?
We love going to Cove Beach on Sunday mornings or go strolling at Harbor Point to see the sunset.
Why did you decide to raise my family in Stamford?
I got here from Philippines in 2005 with my parents and I was only 22. Since then, we never moved anywhere else and have loved Stamford ever since. I got married in 2013 and decided to settle in this town with our two kids.
Nica's Confection
started when I had a lot of friends asking me if my Bundt Cakes had an Instagram page. At first, I just put all my bundt cakes baking pictures into my personal account. But it caused confusion, so I decided to have my own Bundt Cake Instagram page and I had to think of a unique name that will caught peoples attention. So I did, Nica's Confection since my nickname is Nica from Monica and added Confection since I want my Instagram page to have a unique feature of baked products. Plus the word Confection means a sweet delicacy made with sweet ingredients like my Ube Bundt Cake!
Why did you decide to start Nica's Confection? 
It all started with my Ube Bundt Cake (Ube Extract is a purple yam ingredient from the Philippines). I got laid off from work due to COVID-19 and had to come up with an idea to make ends meet. One day, I was baking an Ube Cake and my husband went crazy over how delicious it was. So I told him that I would try to sell the cake to friends and see what happens. I started contacting friends about my Ube Cake and few of them ordered. Then word got out about how tasty my Ube Cake is and there I decided to make it a career it and earn a living doing it. I have expanded my menu and added two more flavors. Now, my husband helps me bake when I have a lot of orders.
How did you get into baking? 
My mama taught me how to bake when I was 22-years-old. When I immigrated here from the Philippines, I had a hard time adjusting to everything and my Mama noticed that so she decided to teach me how to bake. Since then, I've been baking cakes, cookies and other sweet treats but never as a career, until now!
Do your kids like to bake with you? 
Yes! Since my eldest daughter was 3-years-old, she's been helping me a lot especially when we bake chocolate chip cookies because they're her favorite.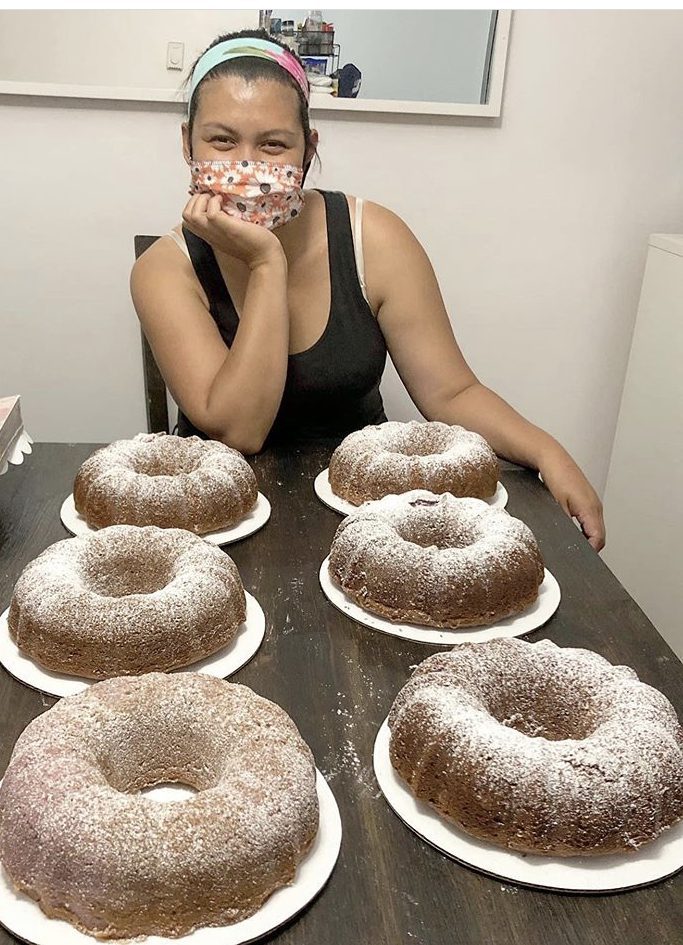 What's the best piece of advice you've gotten from another Mom? 
My old boss who has three kids used to tell me, "Always treat people with kindness because you never know their story and be well mannered all the time. Rise above people who try to pull you down. We know ourselves better than anyone so never listen to negative critic."