How many kids do you each have and what are their ages?
I have 2 kids – Ellie Madison (6) and James Hudson (7).
What are your favorite family activities in Stamford?
We're total homebodies (especially now!).  But we still try to get out a little bit. Both kids swim for Chelsea Piers. James also does Ninja Warrior and Ellie gymnastics. We also love fruit picking – apple, peach, strawberry, whatever is in season! I love to host friends and family, so we've been throwing a lot of small, safe outdoor gatherings. We bought an outdoor heater – we're trying to stretch these gatherings until November/December.
Why did you decide to raise your family in Stamford?
My husband's job brought us here. He was offered a job as the Aquatics Director for Chelsea Piers. He's also originally from Stamford, and we were planning on having kids, so moving here was a no brainer. It took us a while to transition from the city, but now we're very happy.
Tell us about your career.
I worked in visual merchandising and eventually store design for a little over 15 years for various companies – J Crew, LOFT, Vineyard Vines and Rhone. I've always loved doing residential interiors… and was asked in 2015 by a client to design their home. The project went great, and then the word was out… That job turned into more projects. I started my own firm two and a half years ago, and have never looked back. I work with various clients – commercial, retail, and residential.
Tell us about Madison Hudson Design and how it got started.
A client came into the Greenwich Vineyard Vines store and noticed the aesthetic was different. They asked who was doing it. The store manager gave them my information. This was my first client, and I'm so thankful for them. It got the ball rolling. Three years later I left corporate America and started MHD.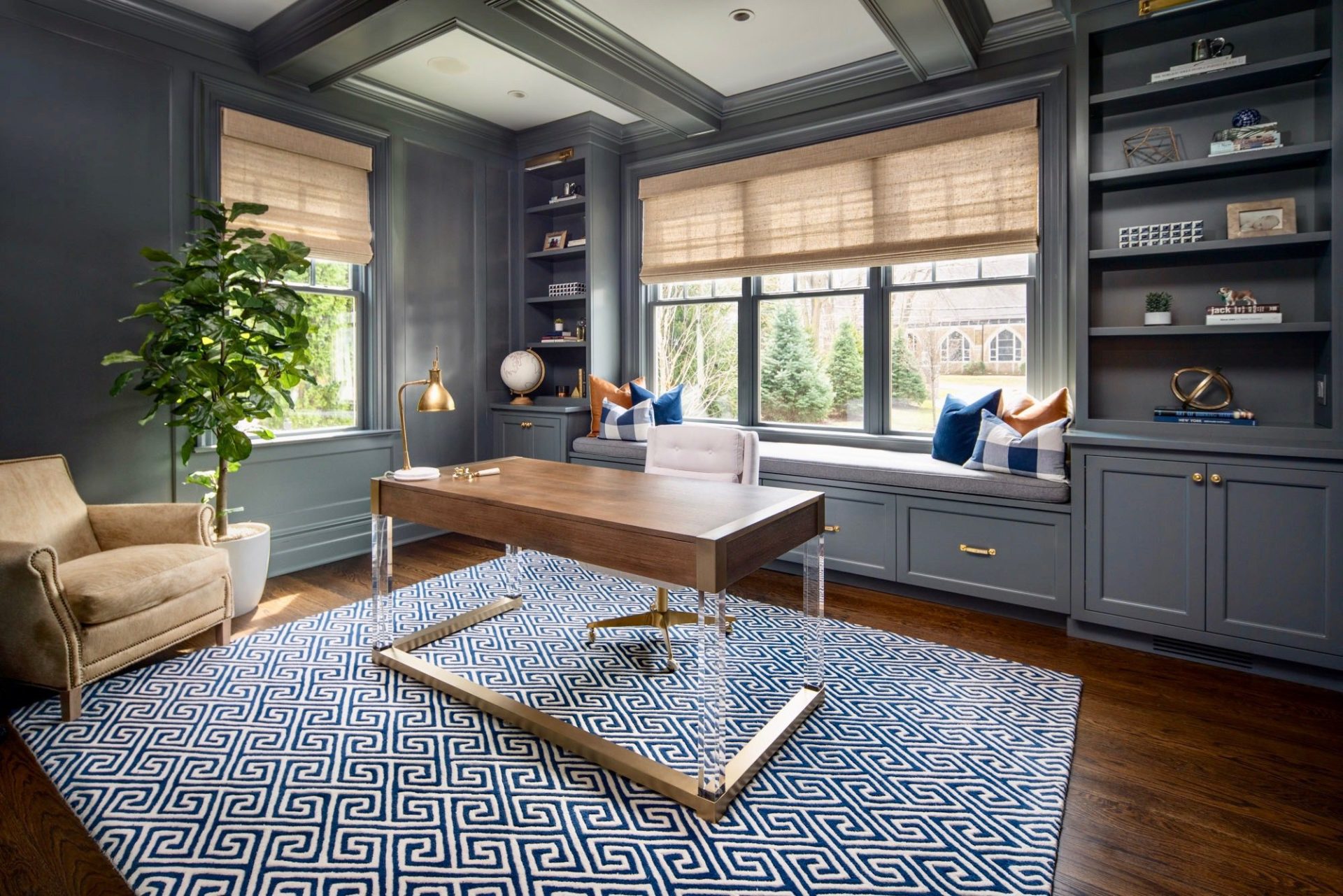 What do you specialize in?
I specialize in design and organization. I listen to the client's needs, i.e. they have lots of kids' toys, they need a place to hang keys, they like to entertain, etc… and then design a space that's both functional and beautiful. A lot of designers focus on beauty, but if the space doesn't function for the family, then it will eventually get bogged down with clutter, and the design aesthetic is lost.
What is your number one tip for families who want a home that is both appealing to adults and kid-friendly?
Two words – storage and performance fabrics. Since I have two young kids myself, I understand what parents go through – leaking sippy cups, a snack that ended up being smooshed into a rug, toys overtaking the family room, etc… Our lives are hectic- especially now – and performance fabrics and storage can keep our adult rooms looking just that – adult.
How do you juggle work with mommyhood… especially during COVID-19?
It's not easy. Thankfully I have an extremely supportive partner. My husband Jamie is very hands on – we divide and conquer. My kids are in school part time right now. Education is very important to us, so when they are home, we each take a kid and teach. We're lucky to have flexible jobs that give us this opportunity (my husband left swimming during quarantine and is now a real estate agent), but I work a lot of late nights to supplement the time missed during the day.  It's not ideal. I give credit to ever parent out there right now.  This is not an easy time to navigate, and we're all doing the best we can. I also give credit to the kids.
What's the best piece of advice you've gotten from another mom?
It takes a village. I have a VERY hard time asking for help. I'm not sure why. I know it's not pride. I think I just feel that I should be able to handle everything. That's what a mom is supposed to do, right? But at the end of the day, it's exhausting, and there's no medal or trophy, or trip to the Turks and Caicos if I succeed.  So why am I doing it?  I've gotten better at asking for help, and accepting it, but it's still something I constantly work at.
Family Photos: Joopa Shoots Photography
Interior Design Photos: Phil Nelson Photography