The 11th Annual Health Wellness & Lifestyle Expo 2022, with special thanks to Stamford Health, Exclusive Healthcare Partner, returns Saturday, September 10, 10 a.m. to 6 p.m. to Harbor Point! This year's theme is GO. GATHER. GROW. Let's GO to the expo. Let's GATHER with family and friends. Let's GROW mind, body, and spirit. PARKING AND ADMISSION ARE FREE.
As Connecticut's largest health expo, this family-and-pet-friendly event is ONE-DAY-ONLY and is jam-packed with multiple zones, free fitness classes, and over 100 exhibitors showcasing and selling health and wellness products and services.
Attendees can look forward to visiting Stamford Health, HWL Expo's Exclusive Healthcare Partner, for a variety of informative services, including programs from Sarner Health and Fitness Institute, stroke care led by Stamford Health's Neurosciences, heart health and CPR instruction with the Heart and Vascular Team, free blood pressure screenings, Stop The Bleed training provided by our Trauma Program, book a mammogram with the Women's Health Center, children's nutritional education provided by our KIDS FANS Program, and kids activities with the HAHA's, volunteer Health and Humor Associates who spread joy and laughter to patients of all ages.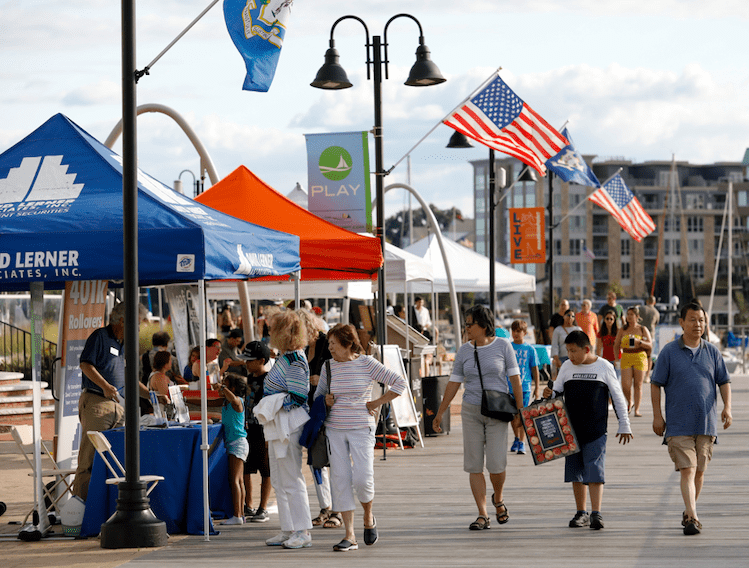 A highlight of the HWL Expo is the Dance & Fitness Zone sponsored by Sacred Heart University which is filled with free yoga, dance, martial arts, and spirited fitness classes led by the area's top fitness instructors, including the always-entertaining Billy Blanks, Jr. of Dance it Out, as seen on Lifetime Television. All levels and abilities are encouraged to join in the fun and pre-register for classes.
The HWL Expo's Pet Zone, sponsored by Cornell University Veterinary Specialists, will showcase pet wellness.  Pets Make Life Better Sponsor, Safari Stan's Pet Center will be on site with the newest pet products.  Pet owners are encouraged to give their pets the spotlight in the "Spot On Fitness Pet Parade" (12:30 PM) produced by Stamford's Spot On Veterinary Hospital & Hotel.
Satisfy your appetite and your thirst at the Healthy Food & Beverage Zone where you can indulge in an array of cuisines from the area's best healthy food trucks, sample healthy beverages and food products from progressive brands and local restaurants, and partake in eco-friendly wine, spirits, and craft beers. Grade A ShopRite, Support Sponsor, will offer flu shots from their pharmaceutical team, express nutrition consultations with their registered dietitians, live healthy cooking demonstrations, and a raffle to win a gift basket of Grade A ShopRite's Bowl & Basket brand of healthy foods.
This year's Kids Zone is sponsored by Nickelodeon's Noggin and features face-painting, games, educational activities, and childhood fitness instruction with My Gym Stamford. Added excitement will be the Touch-A-Truck Kids Zone presented by Stamford Police and Fire Departments, Narcotics and Organized Crime Unit, and SWAT Team.
The HWL Expo will be home to the 1st Annual Lift It Forward / Plank For Peace sponsored by Chelsea Piers Athletic Club. Each year, this event will bring together fitness enthusiasts of all levels to raise funds for those in need. This year's event will benefit the humanitarian efforts of the Ukrainian National Women's League of America (unwla.org) and Revived Soldiers Ukraine (rsukraine.org). Contests include MOST CHIN UPS, MOST PUSH UPS, LONGEST PLANK and OVERALL BEST combining all three. Test your skills, compete for great prizes, enter the raffle, or simply cheer on the competitors! $25 minimum donation to participate for prizes. Every prize competitor receives a gift swag bag and 10 raffle tickets for the Lift It Forward Wellness Basket. Competition: 10:30 am 5:00 pm. Register in advance www.liftitforward.org or at the Lift It Forward tent.
Sponsors include: Stamford Health, Exclusive Healthcare Partner for the 11th consecutive year; Grade A ShopRite, Support Sponsor for the 11th consecutive year; KeyBank, Support Sponsor; Toyota of Stamford, Support Sponsor; GoodCell, our new Passport For Life Sponsor; Cornell University Veterinary Specialists and Safari Stan's Pet Center, Pet Wellness Zone Sponsors; Noggin, Kids Zone Sponsor; and Sacred Heart University, Dance & Fitness Zone Sponsor. Thank you to our Premier Media Sponsors, Stamford Magazine/Moffly Media and Natural Awakenings Magazine. We appreciate all Media Sponsors for the valuable support and promotion of this event; CT Kids and Family, Fairfield County Mom, Greenwich Girl, HeyStamford!, Jen Danzi, Kids Out And About, Macaroni Kid, Natural Nutmeg Magazine, News 12 CT, Stamford Advocate/Greenwich Time/Hearst Media, Stamford Moms, Money Mailer of CT and NY, WAG Magazine and WC & FC Business Journals, and WEBE 108. Thank you to our Community Partners, the City of Stamford, City Carting, the Stamford Chamber of Commerce, and Alpha Graphics Stamford, our Flyer Sponsor.
The Health Wellness & Lifestyle Expo is created and produced by TMK Event Marketing in Greenwich.
11th Annual Health Wellness & Lifestyle Expo 2022
1 Harbor Point Road, Stamford, CT