With summer winding down and the start of another unusual school year on the horizon, many of us are trying to soak up every little bit of summer! If you're looking for ways to enjoy the beautiful weather with your family, before it's back to reality… we have 5 musts for your End of Summer In Stamford Bucket List!
Have Breakfast at the Beach!
Kids wake up early… it's just a fact that I'm sure we have all come to terms with. But on the plus side, it's the perfect time to head to the beach! There aren't any crowds at Cummings or West Beach in Stamford so the kids can play and you can hang out! Just grab a blanket, coffee and breakfast along the way and enjoy!
Note: As of Saturday, July 25 Stamford beaches are restricted on weekends and holidays to Stamford residents and those with an annual beach parking permit. Parking permits are required through September 30.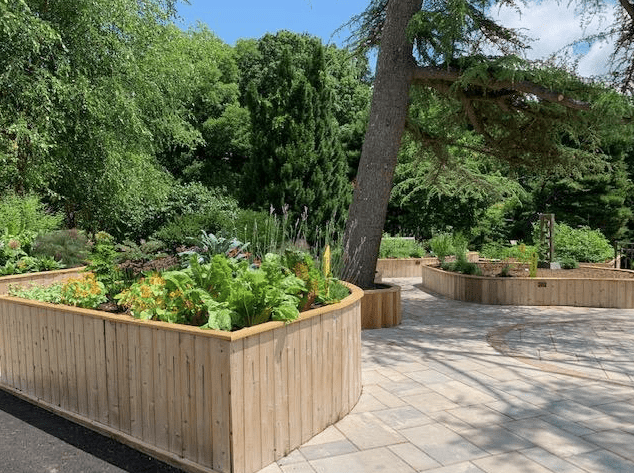 Visit the Sensory Garden at Bartlett Arboretum!
The Sensory Garden is devoted to plants that emphasize the five senses: plants for sight, smell, hearing, taste, and touch. Each raised bed in the garden has a different group of plants.
While you're at the Bartlett, head out for a hike and go on a scavenger hunt to find the hidden heads among the trails, rocks and trees!
Rent a Kayak or Paddle Board through SoundWaters!
Head to the SoundWaters Dock in Boccuzzi Park, 200 Southfield Avenue on Saturday or Sunday, 10 a.m. – 6 p.m. (last rental at 5 p.m.) to rent a kayak or paddle board for one or two hours. It's a great way to explore the Long Island Sound! Book online, here!
Tour the Art Collective in Stamford Downtown!
A total of 35 sculptures can be found throughout Stamford Downtown as part of the Art Collective in Stamford Downtown! Grab a mask, some coffee or ice cream from one of the restaurants in Stamford Downtown, social distance and check out the exhibit with your family! Otocast gives a free audio tour with an interactive map, sculpture photos, artist narratives, and information about Downtown restaurants.
Visit a Farmer's Market!
Stamford has a number of farmer's markets this summer! Stamford Downtown has Farmer's Markets on Wednesday and Saturday, Fairgate Farm has one on Thursday and Saturday, The Stamford Museum & Nature Center has one on Sunday, as does Harbor Point. Designs by Lee has farmer's markets Friday – Sunday. They're great ways to shop local, get some fresh produce and head home to try a recipe as a family! Check the Hello Dentals Events Calendar for farmer's market days and times!
Enjoy the rest of your summer!