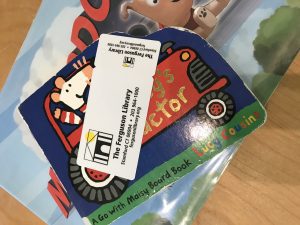 Curbside pick up begins on Monday at the Ferguson Library for cardholders!
Curbside pick up will only be available at the Main Library in Stamford Downtown for the first week. Beginning June 15 it will become available at the Harry Bennett Branch, June 22 at Weed Memorial & Hollander and South End branches.
The service is available by appointment only, Monday – Friday from 10 a.m. – 3 p.m. When reserved materials are ready, you will receive an email notice, asking if you'd like to pick them up, have the materials mailed to you, or cancel the request. If you choose curbside or walk-up, you will make an appointment and instructions will be sent by email.
For curbside pickup, please make sure your trunk is open so staff can place your materials there. No need to get out of the car. If you walk, please bring your own bags.
According to the Ferguson Library, all library materials have been physically quarantined for a MINIMUM of five days before being handled by staff or prepared for circulation to the public. Please continue to follow all state and local guidelines on safely handling any materials and packages you would normally encounter during this time.
You may return your materials to a Ferguson Library book drop at your convenience.
In addition, due dates on materials have been extended until June 30 and expiring library cards are renewed until July 31. All fines are waived until further notice.
If you need help with digital services or have questions, call between 10 a.m. – 5 p.m., Monday through Friday. A librarian will respond within the hour.
Main Library Borrowers Services: 203 351-8261
Main Library Adult Services/Reference Desk: 203 351-8231
Youth Services: 203 351-8242
Harry Bennett Branch: 203 351-8292
Weed Memorial & Hollander Branch: 203 351-8285
South End Branch: 203 351-8280
Virtual Chat is available with a Librarian online, Monday through Friday from 10 a.m. to 5 p.m.
While the library is closed, the Ferguson is waiving the requirement that you come into the library to activate your card. Complete the online application. Once you fill out the application, we will send you a temporary ID, which is good for three months.